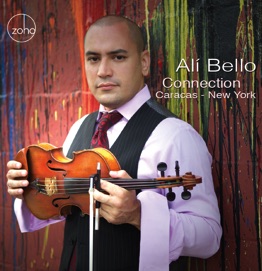 Alí Bello
"Connection Caracas - New York"
Zoho Music
Top 50 Jazz CD's of 2013 by JazzTimes Magazine &
Ranked 4th among The Best CDs Released in 2013 - Mark Holston, JAZZIZ Magazine
"Connection Caracas - New York … exudes vitality, cohesiveness, and a
natural flow…" Scott Albin / JazzTimes Magazine
"The mix of classical, folk, jazz, roots, and Latin genres are very compelling
and enthralling"…   Matthews Foss / Inside World Music
"A wonderful, indefatigable set that just keeps right on delivering …"
Chris Spector  / Midwest Records
"Alí Bello is a master of his instrument; a player of extraordinary
refinement, who seems to suffuse the violin with a powerful electrical charge as
he plays it"…   Raul da Gama / Latin Jazz Network
Album Of The Week by the Latin Jazz Network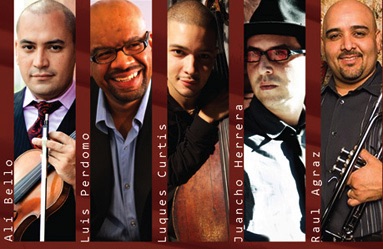 "After a bout of generous creativity, Alí Bello delivers a balanced and well accomplished amalgamation of European violin virtuasity, the harmonic and improvisational freshness of
Jazz and the sheer inexhaustible, though, so far, largely unexplored rhythmic and melodic reservoir of
Venezuela, a country whose natural beauty is surpassed
only by the wealth of its musical diversity."
Héctor Martignon
"From The first note that came out of his instrument, he became one of my favorite violinists; so fresh, natural and spontaneous."
Paquito D'Rivera
"Alí Bello is a true musical force. A musician who transcends the normal confides of his instrument and reaches for the unplayed. His music will touch your mind and your soul!"
Tommy Igoe
Alí Bello - "Connection Caracas - New York" $15 - Push the buttom and buy it now with PayPal

A electroacustic band that explores the many colors and rhythms of Afro-Caribbean music.
Alí Bello
& The Latin Jazz Liaisons
In the tradition of Cal Tjader and Joe Cuba. Latin jazz with a flare.

Alí has recorded, performed, toured, and collaborated with many artists. Among them:
Paquito D'Rivera
Birdland Big Band w/ Tommy Igoe
Típica '73
Johnny Pacheco's Band
Tito Puente Big Band
Orquesta Broadway
Johnny Almendra y Los Jóvenes del Barrio
Eddie Palmieri Big Band
Cubarama w/ Rudy Calzado
Richie Ray & Bobby Cruz
Fajardo y sus Estrellas
Oscar Hernández
Alfredo Naranjo y El Guajeo
Héctor Martignon
Latin Jazz Coalition
Luisito Quintero Percussion Madness
Nu' Guajiro / Nu' D'Lux
Gonzalo Grau y La Clave Secreta
Marlon Simon & The Nagual Spirits
Jimmy Delgado and Salsa Con Dulzura
Típica Novel
Charanga Soleil
SonSublime
Charanga América
Orquesta Siglo XX
Sonido Ideal
Dave Santiago's Latin Affair
Alfredo De La Fe
Steve Gluzband's Hot House
Mauricio Smith Jr.
Ray Martínez y Sabor Criollo
Colette Michaan
Charanga All-Star
Willie Colón & His Orchestra
Jay-Z & Beyoncé - Rap, R&B
The Roots - R&B
Africando - African, Latin
Pedro Cortés y su Flamenco de Hoy - Flamenco
Raul Jaurena - Tango
Don Omar - Reggaeton
Aquiles Baez - Venezuelan
Tico Da Costa - Brazilian
La Conja - Arte y Compás - Flamenco
Tania Eshaghoff - Middle Easter
Frank Valiente Tango Quintet - Tango
Gil & Tuey - Folk and Country
Grupo Aventura - Bachata
Luis Vargas Group - Bachata, Merengue
Manué - Flamenco
Ricardo Lemvo y Máquila Loca - African, Latin
Louie Vega & Elements Of Life - Pop
Marcos Napa & Caracumbe - Peruvian Folk Music
Doc Severinsen & El Ritmo de la Vida - Swing, Rumba
Héctor Morales & Afrodita - Afroperuvian Jazz
The Afro-Peruvian Ensemble
Zemog El Gallo Bueno - Fusion/Alternative Latin
Chicago - Rock & Roll
Mercedes Sosa
Susana Baca
Willie Colón
Gilberto Santa Rosa
Cheo Feliciano
Oscar D'Leon
Lalo Rodríguez
Ismael Quintana
Lucrecia
Juan-Carlos Formell
Guadalupe Pineda
Alejandro Fernández
Cristian Castro
Charlie Saa
Hansel y Raul
María Teresa Chacín
Bobby Cruz
Anané
Lucía Pulido
Irene Farrera
Calpulli Mexican Dance Company
A Palo Seco Flamenco Company
Carlota Santana Flamenco Comp.