Venezuelan born Alí Bello has become one of the most dazzling and sought
after violinists, distinguishing himself for his versatility among different music
styles in addition to his well-found classical training and multidimensional
improvisational skills. Since his surge from El Sistema, the musical education
program of his country, and after building upon years of experience in New
York, he has become a Latin jazz music figure to be reckoned with.
During his career, Alí has collaborated and performed with such figures as
Paquito D'Rivera, Johnny Pacheco and, Jazz at Lincoln Center Orch.
He has worked with bands of great tradition such as Orquesta Broadway,
Típica '73, and Africando as well as modern fusion bands such as Alfredo
Naranjo y El Guajeo, La Clave Secreta, and Los Jóvenes del Barrio.
He has become a sultry sound in tango, regularly performing with
Grammy winner bandoneonist Raúl Jaurena, and a regular collaborator
on scores with flamenco guitarist Pedro Cortés. His repertoire expands
even further to include gypsy jazz and American folk music, as a
member of the touring quintet Doc Severinsen & El Ritmo De La Vida.
He has also infused the violin into the popular rhythms of R&B,
performing live with The Roots, Beyoncé, and Jay-Z. Alí can be heard
arranging and collaborating dance beats with Grammy winner producer
Louie Vega, as well as recording with award winning artists Aventura
and Don Omar. His violin has backed up amazing singers of the stature
of Mercedes Sosa, Susana Baca, Gilberto Santa Rosa, Alejandro Fernández,
and Cheo Feliciano among others.
Alí could be heard regularly with his Latin jazz group The Latin Jazz Liaisons and his new musical concept, The Sweet Wire Band – a blend of electronics and acoustic instruments,
which include all his multicultural collaborations as well as expose his Afro‐Latin roots and Venezuelan heritage. His last album Connection Caracas - New York, was named "Top 50 Jazz CD's" of 2013 by JazzTimes Magazine.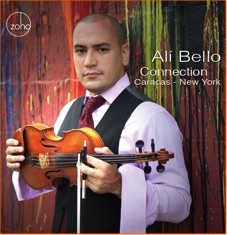 Alí Bello
"Connection Caracas - New York"
Zoho Music
Alí Bello w/
Típica '73
Orchrad Beach Festival
New York
Alí Bello w/
Johnny Rodriguez' Dream Team
SOB's - NYC
Alí Bello w/
Del Caribe Latin Jazz
Lehman Center for the
Performing Arts
Alí Bello w/
Típca '73
Jercey City Pier Festival
New Jersey
Management & Booking
AGBA MUSIC Management
212.380.1632 phone
928.752.8349 fax






Alí Bello
"Inheritance"
Tiger Turn